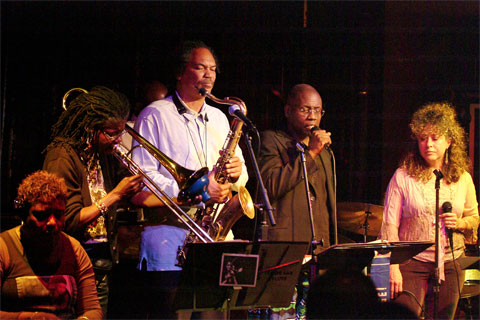 News
An interview from BCM:
https://www.youtube.com/watch?v=InrxWXCFQlY
Poetry reigns in Auburn with aaduna


The Harriet Tubman Tests?
http://blackagendareport.com/content/harriet-tubman-tests

Watch the New Video!

"Build Our Occupations" a musical tribute.

BY RORYDEAN@localmusicvibe.com
The Occupy Oakland Movement inspired a group of Bay Area artists, musicians and 'people of the 99%' to come together and share their experiences, feelings and aspirations in song. To coincide with the general strike, the group gathered with David Sturdevant of the San Francisco Medicine Ball Band at the Plymouth Church of Jazz & Justice in Oakland and recorded their song:
"Build Our Occupations" a musical tribute.
The lyrics were written by Jazz poet Raymond Nat Turner of "UpSurge" to the classic Temptations song "Just My Imagination (Running Away with Me)" with Vukani Mawethu Choir, and the Plymouth Choir, conducted by Chelle Jacques. The group performed and recorded this video on Wednesday, November 2nd as Oakland and its Port were effectively shut down by peaceful protest over the course of the day. Thousands of demonstrators and others made the long trek from Frank Ogawa Square to the Ports and back again.
This is their video tribute.


I first met Raymond when he performed at our Harriet Tubman Centennial Symposium in November 2013. His reverence for the woman he calls "Mama Harrietas" is so strong that he wanted to come back to Auburn to see the places where she worked and lived for 50 years. He is a poet of power and eloquence and music. The Harriet Tubman Boosters are proud to have sponsored this poetry workshop for young people in our community, and hope to see Raymond Nat Turner here again.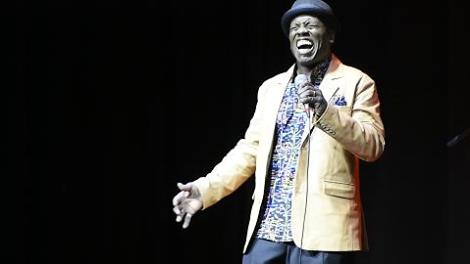 UpSurge!


Produces entertaining cross-cultural performances
and products that contribute to progressive social change.

Voted "Best of the East Bay" (2003), the group was founded in 1990. UpSurge is an ensemble of piano, bass, drums, and frontline 'horns'—saxophone, trombone, and jazzpoets Raymond Nat Turner and Zigi Lowenberg, who bend metaphors and split similes throughout the swinging ride. On their recordings, several Bay Area luminaries also join forces with UpSurge as special guests.

With imaginative compositions, innovative arrangements and in-your-face consciousness, UpSurge is honing one of the most original group sounds on the music scene today. Their sound is a compelling mix of jazz, poetry and politics. But UpSurge isn't afraid to challenge fans or themselves by incorporating other elements such as funk, klezmer, calypso and found sound.

UpSurge is the ultimate hybrid. They're New York, and Los Angeles (co-leaders hail from both coasts). They're African-American, Jewish-American, and more. They march to a different drummer on the high wire of unpredictability. Their second release, Chromatology, mixes conscious words with assorted grooves and feels, dissolving boundaries that separate genres and people. This isn't surprising. UpSurge's diverse influences range from Abbey Lincoln, Sonny Rollins, to Allen Ginsberg, Amiri Baraka, Bertolt Brecht and Langston Hughes. The group's critically acclaimed debut CD, All Hands on Deck, garnered them an Indie Award nomination by the Association for Independent Music (AFIM) in 2000.

UpSurge has appeared at major festivals and venues including the Monterey Jazz Festival (with legendary drummer, Donald 'Duck' Bailey), Vallejo Jazz Festival, Panafest (Ghana, West Africa), Yoshi's, Cornelia Street Cafe (NYC), as well as Brown and Tulane universities.
***
Audience Comments From the 20th Anniversary Celebration of UpSurge!
Nat and Zigi...the 20th Anniversary event was spectacular! I just got home and am still moving to the beat. All I can say is you and Zigi are a class act 'fo real...always have been...always will be.
Carole

Totally great tonight. The Obama song was on the mark. OOO. And the army of artists! Too late for us old folks to party afterward, but both of us loved it. Needs to be a new album. Yeah, huge process, need money....... still. Thank you guys so much, and photos will take a few days to process.
Scott

Hi Raymond and Zigi, I just got home from your heart filling 20th anniversary event. I hope you are doing a 20th Anniversary CD with everything on it that you and everyone did tonight....including the group poem reading....Wait! guess you have to make it a DVD so we get Zigi dancing with her Mom....every minute of tonight including the break! Destiny! the man-with-one-harmonica-that-sounded-like-six! You did 3 Michael Moore movies in one night. what power. And the flow from tough to soft...well--I don't have your way with words but you KNOW! Jesus Christ!
I had never heard FEMA before! help! I just finished CORE disaster training and hope to work with folks in W. Oakland to pull together a team so we never have to call FEMA. I have been through 2 other trainings and believe me the white hill residents are organized to snag all the resources. We'll take care of our own and you'll take care of our hearts...the poem Zigi read about what you do.... Do you have a book of poetry published? A children's book with a CD! I see a big future finally for the Truth.
Thank-you and bless you.
Sandra Decker

What an amazing, inspiring, uplifting, thrilling, motivating, powerful evening! Thank you. thank you, thank you!!! I am full up and overflowing with the spirit of all that is transformative and groovy. love you, Barb
Congratulations!
I know you pulled it off in grand style the celebration of your results from your hard work and effort . Walk tall , be proud you deserve it , you are the best at what you do ! That is not your motivation yet still no one foes it better just the same! I mentioned Doug would be missed and I meant to mention Raymond's mom in that mix!
I am happy for the success and acknowledgment of Upsurge! That is soothing for me and share pride in being among you two and the other contributors of the Upsurge! sound! Post some pictures , share some stuff online , promote , promote and promote the celebration for the rest of the year ( and beyond )
I hope you had fun , just a great time with laughter and tears of joy .
Respectfully,
Richard

Zigi and Raymond (please forward),Had to leave early (about 9:35), but loved your celebration last night. Thanks for the inspiration!
-Zach
All went well last night and a good turn out, so thank-you walk-ups and procrastinators! Loved the slide show montage with the radio show audio..... I was thinking how (great? cool? effective?) it would be to put a N. O. montage together on YouTube to your FEMA! sound track. And/or the Upsurge! 20 yr montage on YouTube as well…
Nickster

What a fantastic event and emotional I did cry once. wish I had felt a bit better. It meant a great deal to me....There are so many memories to cherish. It was the best performance I've been to in a long time. You were great, Zigi was great...I loved her dancing with her mother...Zigi is so smooth, cool....and professional, the venue was beautiful and Destiny Muhammad tore it up at the end. Like I said before...it was spectacular.
Raymond and Zigi.. Thanks so much for letting me share in the celebration of your 20th Anniversary.. Wow.. Y'all really know how to put on a show...damn... We were so happy to be there with you at F 'n S on your anniversary. We loved having the experience of UpSurge and were knocked out both by the messages of your poetry and by the quality of the musicians. You should be so proud of what you do…
Fondly,
Mary Ellen (& Bob)
LOL - congratulations for 20 great years -- time sure flies when we're having fun!!
Dear Zigi and Raymond,
Thank you for such a beautiful moving experience. Your anniversary celebration was something I will always remember. Your presencing of Daniel always touches my heart. Upsurge really speaks to the heart of our times. I wish the whole world could hear you. Much love and gratitude, Kate
ps---I saw someone videotaping---is there any chance it might go up on youtube or somewhere on the net where people could access or link to it. I'm on facebook with friends all over the world and I know they would love you and pass the video on. I put the notice of the anniversary on facebook and Christopher Cafiero in germany and John Winters commented. Also, Bill and Laura and Vicki sent their love , even tho they couldn't come. pps. The song that Destiny sang (Love's in need...) has been huge in my own healing since Daniel's death. I've listened to Stevie Wonders' version probably hundreds of times and been so deeply moved each time, but never so powerfully as when Destiny and Upsurge performed. There's a way that song has always helped me connect to my grief about loosing Daniel, but even more to my and our collective grief over the cycle of violence. Hearing people talk about wanting revenge, wanting to kill in response to the killing is heartbreaking beyond words. For me, on a very deep level it's what keeps the cycle going. Love is the medicine. Thank you for giving us that.
Kate


Readers' Pick for Best Poet or Spoken-Word Performer:
UpSurge!



"Free-pushing jazz band with
two strong poets out front…"
—East Bay Express




********************
20th Anniversary Celebration for UpSurge!

See the Celebration Pics Here!

See Videos of the night here!

Read comments from the night here!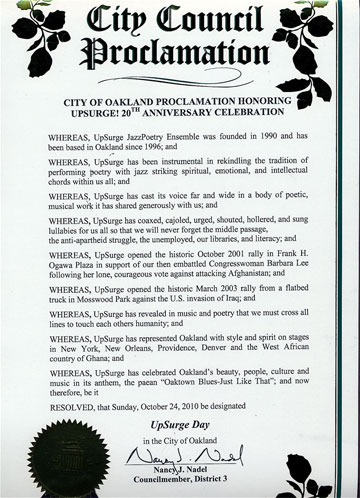 Click for larger view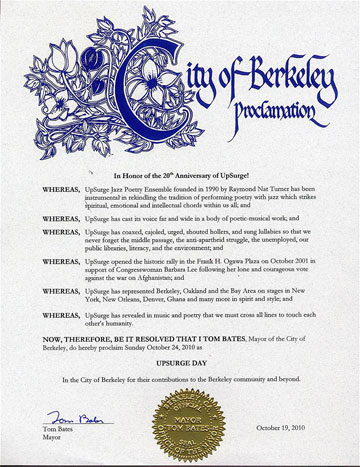 Music and Words
Worth YOUR Money
and Time

<< >>
for
Samples or Purchase


Raymond Nat Turners Blog - Black Agenda Report

Donate to UpSurge!

Donate any amount in increments of $5.00

Future Dates

Saturday April 2 2016
4:00PM
UpSurge! NYC
Raymond Nat Turner & Zigi Lowenberg - poets
Ken Filiano - double bass
Confluence: Jazz Appreciation Month Meets National Poetry Month
Safiya Martinez
Andrea Wolper's Cento
UpSurge! NYC
Gabriel Ramirez
Golda Solomon
Arts for Art Evolving Series: Justice is Compassion
artsforart.org
2:30—6:30PM
$15 for the entire afternoon ($10 students, seniors)
Clemente Soto Vélez Cultural & Educational Center Abrazo Interno Gallery on 2nd floor 107 Suffolk Street New York
(F train to Delancey St.)

*************

SAT 25 JUL NYC Poetry Festival Governors Island, Colonel's Row
For directions to Governors Island, click here. Zigi Lowenberg; Raymond Nat Turner)

**************
THU 30 JUL Poets House Members-only Open Mic (Zigi Lowenberg; Raymond Nat Turner)
10 River Terrace, New York, NY 10282 Tel: (212) 431-7920 Map & Directions


*************
SAT 15 AUG Dissident Arts Festival (Raymond Nat Turner)
El Taller Latino Americano
PS 109 Arts Space 215 E. 99th Str btwn 2nd & 3rd Av
New York, NY
THE 10th ANNUAL DISSIDENT ARTS FESTIVAL schedule:
Day One: Saturday August 15, 7pm – 11:30pm
El Taller Latino Americano
PS109 Arts Space 215 East 99 street, between 2nd and 3rd avenue (212) 665-9460
7PM- Raymond Nat Turner- Remembrance of the Victims of Racist Police Violence
7:20-Sumari, "other-world" art music
8:05-Sana Shabazz, poetry
8:20-The Red Microphone, "liberation jazz"
9-Steve Dalachinsky, free jazz poetry
9:45-Bernardo Palombo, nueva cancion
10:30- The 12 Houses Orchestra, 15-piece expansive jazz ensemble led by Matt Lavelle
Day Two: Sunday August 16, 7pm – 10:30 PM
ShapeShifter Lab
18 Whitwell Pl, Brooklyn, NY 11215 (646) 820-9452
7:00-Trudy Silver & "Where's the Outrage?", improvisational music, poetry, performance art
7:45-Safiya Martinez, poetry
7:55-John Pietaro's Literary Warrior Project, spoken word and improvised music
8:35-Patricia Nicholson-Parker with ensemble TBA, dance with improvisational music and spoken word
9:15-Chris Butters, poetry
9:30-Dissipated Face featuring Daniel Carter, no wave/hardcore music
*This year's Festival is dedicated to the struggle for unity & the memory of Ornette Coleman*
----------------------------
Ensemble Personnel:
DAY 1-
RAYMOND NAT TURNER
Raymond Nat Turner: spoken word

Aug 16, Dissident Arts Festival representing NY Chapter of National Writers Union (NWU).
..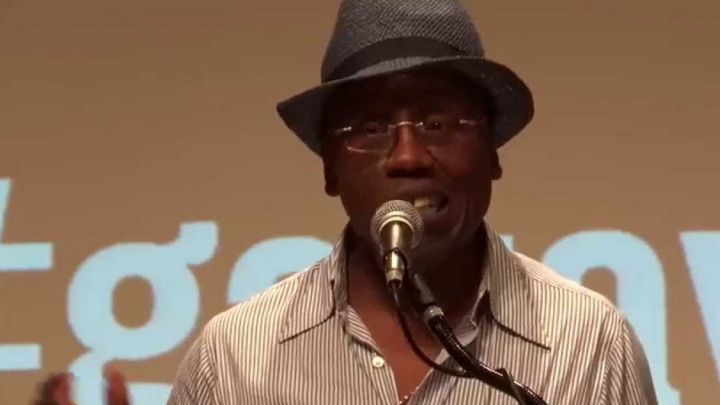 Poetry and jazz: Surging together in Berkeley
The unassuming apartment complex at Seventh and Allston doesn't look much like the cradle of a creative movement, but for spoken-word artist Raymond Nat Turner...
http://www.berkeleyside.com


Reviews and Comments From 25th Celebration

Lincoln Bergman - It was just great! The music/poetry the poetry/music, the politics and soul and rhythm from start to finish...and O that "Loves in Need of Love Today"--great musicians and poets---very inspiring and upsurging indeed!

Pat Jameson-Amwele - A very beautiful, powerful, amazing show last night, Raymond! Congrats on UpSurge's 25th Anniversary, Raymond & Zigi! And all those with you in the band were outstanding, as well! Thoroughly enjoyed every minute!

Carol Canter - Did it well is a major understatement. This was another knockout performance, Raymond. You and Zigi weave a web of magic with your words and sounds and movement, going very very deep, bringing key issues of the day to our heart and soul and mind. There's no turning away, and it's profound. Every one of your musicians was amazing as well. Keep coming back to Berkeley and Oaktown, and we'll look forward to seeing you both this summer in Harlem!

Miranda Bergman - You definitely did do it well!! You (every band member and you and Ziggy) did it movingly, inspirationally, healing. Thank you.

"Congrats, heard you rocked it, stomped it, turned it out! "
I really enjoyed the event in Berkeley last night, you guys laid it down. Tell Zigi I can get the I Am Poetry tee shirt when I see the artist and mail it if she like. WM

Poetry and jazz: Surging together in Berkeley

UpSurge brings cutting edge jazz poetry to 2015 Berkeley Arts Festival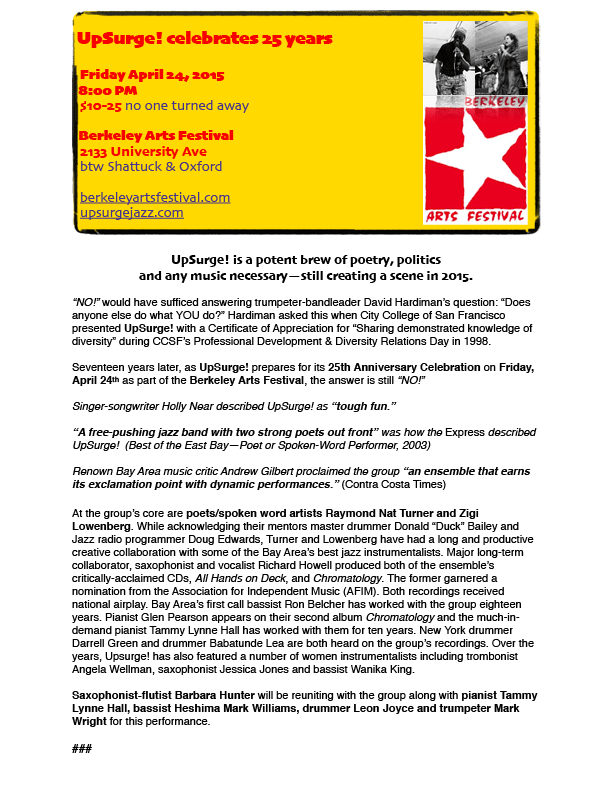 KPFA's "Living Room" hosted by Kris Welch FRI 17 APR:
http://204.11.107.106/archive/id/112800


Whynot Jazz Room's
Why Not Experiment? Series
Presents UpSurge!
A potent brew of poetry, politics
In jazz—creating a scene 2015!
Ken Filiano, bass/Lou Grassi, drums/Marshall Sealy,
French Horn/Zigi Lowenberg, poetry/Raymond Nat
Turner, poetry
7pm Sunday 8 February
14 Christopher St @ Gay St NYC 10014
$10 cover CASH ONLY
"An ensemble that earns its exclamation point with dynamic performances" —Contra Costa Times

"TOUGH FUN" —Holly Near
"blew the audience away with their powerful music and lyrics, which condemned Wall Street and the greedy banks"
—People's World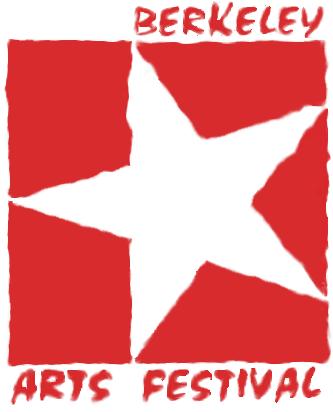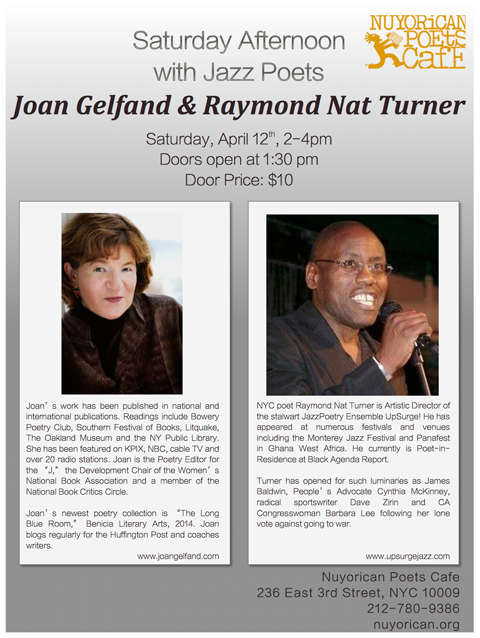 +++++++++++++++++++++++


Some Comments From the Freight and Salvage
September 28th 2012


Thanks for a GREAT show...can't wait until the next 'hello again' tour!

GREAT concert! Great musicians! Raymond held the poetry portion on his own beautifully....but we missed Zigi! Loved the final song "Oaktown Blues!!!"

Raymond......coming out to see you is a form of filling my cup. Your writing pruns while the music is straight medicinal to my soul. I have to say last night was particularly exceptional with the musicians....such an amazing bunch on EVERY instrument. I hope you know how much I appreciate your work. East Bay won't be the same without you - FOR SURE. Can't wait to link up with you and Zigs again.....perhaps in NY!?





UpSurge! is poetry. UpSurge! is jazz. It's the love of language blended with the power of fascinating rhythms and funky grooves. The BerkeleyPatch calls the group "a unique fusion of eclectic jazz and provocative poetry that reaches deep into the soul." The City of Oakland honored the group with an official proclamation, thanking them for twenty years of celebrating "Oakland's beauty, people, culture, and music," as well as for "striking spiritual, emotional, and intellectual chords within us all." The City of Berkeley declared its own UpSurge Day — "for contributions to the City of Berkeley and beyond."

Poets Raymond Nat and Zigi Lowenberg make up the metaphors, sling the similes, and paint the word pictures, accompanied by piano, horns, drums, and bass. Raymond grew up in the Watts neighborhood of Los Angeles. Zigi grew up in the New York borough of Queens. Raymond founded UpSurge! in 1990, and Zigi soon joined him on stage. With imaginative compositions, innovative arrangements, and in-your-face commitment, their eclectic ensemble mixes jazz and poetry with politics, and freely adds musical flavors from klezmer to calypso. Their influences range from Amiri Baraka to Walt Whitman, Gil-Scott Heron to Bertolt Brecht. They've played jazz festivals from Monterey to Ghana, and released two albums, All Hands on Deck, which earned an Indie Award nomination from the Association for Independent Music in 2000, and Chromatology.

For an evening of fearless poetry and swinging jazz, a unique, cutting-edge mix of music and the spoken word, catch UpSurge! at the Freight.